This site uses WordPress as the publishing platform and the theme I use here is the Thesis theme. Before I go further, let me make it clear. I was not given a review copy of Thesis and I purchased the developer option of this theme. I purchased the developer option because it gave me the ability for unlimited use, lifetime upgrades and access to deploy thesis on sites on multiple sites.
I had been using free WordPress themes before I switched to Thesis, but the issues I faced were as follows :
WordPress theme for a niche won't work for other niche. For example, a theme on foreclosure won't blend well with a website on health.
If you're serious in making money online, you'll end up having multiple websites for sure and for support and maintenance, you'll feel a need to have a common theme, which you can utilize of multiple websites and is highly customizable. The earlier you realize this, more efficient you would be.
This is where Thesis came in handy. It is a theme, which I could use on multiple websites and customize as per my requirements. Click Here and then click "Showcase" if you would like to look at the showcase gallery of a few websites made with Thesis. I saw it, liked it, was a bit skeptical but bought it thinking if I don't like it, I can get a refund in 30 days. I started using it, tweaked it and played with it. With use, my liking for the theme started to grow I started liking it more and more. I kept the developers license so I can use it on other sites.
For someone who doesn't get a lot of CSS and PHP and hacks their way through WordPress themes, by using codes from here and there, Thesis gave me a lot of flexibility and functionality, which wouldn't be available otherwise. Also, having full access to the members-only Answers and forum gave me access to a wealth of information. I had access to any possible customization possible with Thesis just by copying and pasting a few lines of code. Tons of time saved !
Click on the below images to enlarge.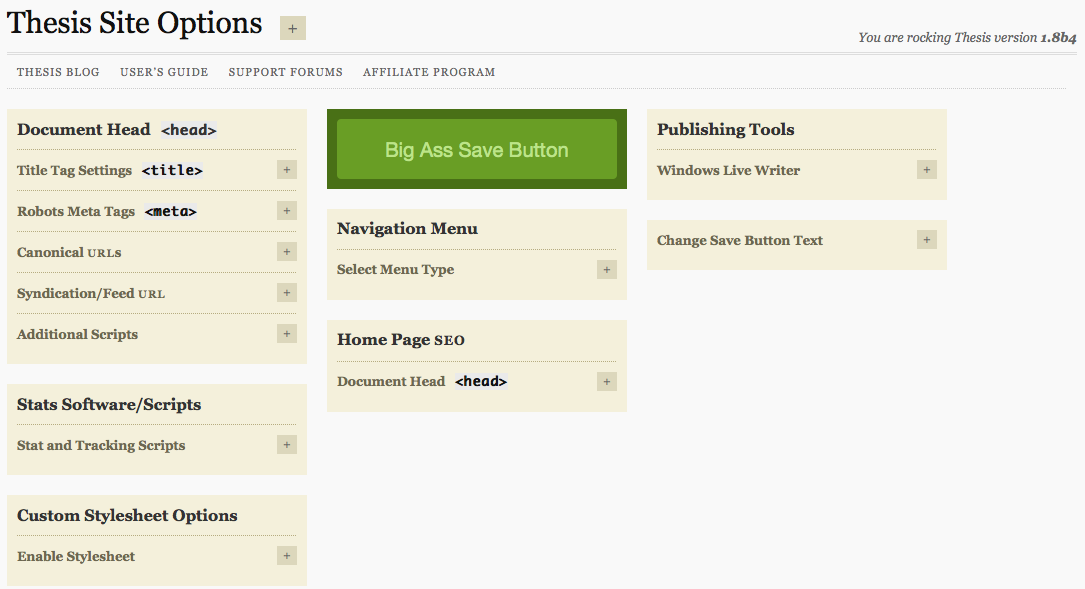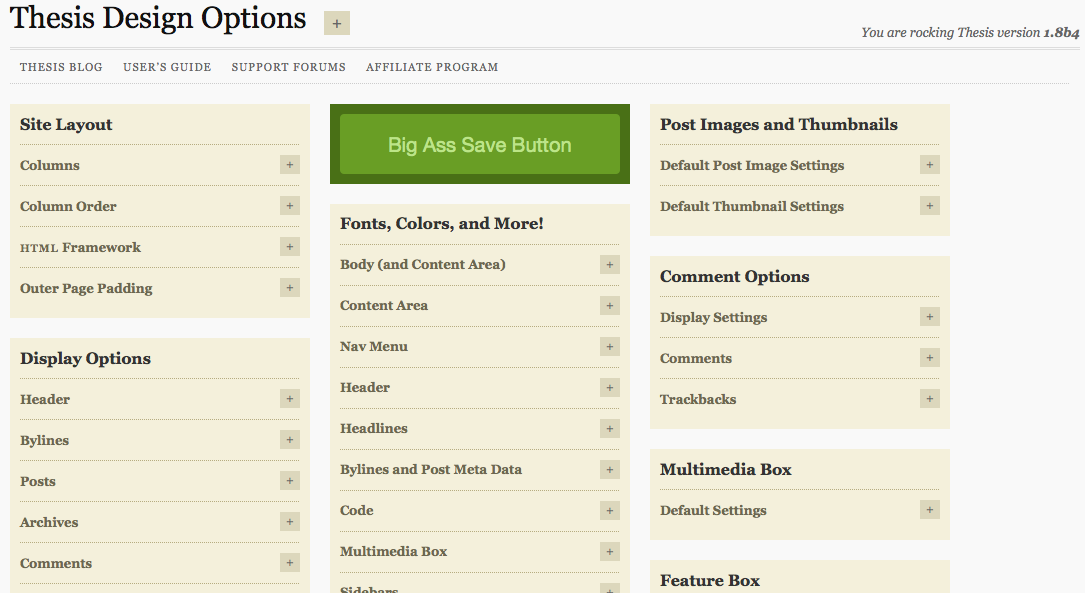 With a tick of box, you can make a selection whether you want the default CSS theme or your own custom CSS file and you can also "tell Thesis" to replace all of the generic links to your RSS feed in WordPress with your Feedburner one. Thesis also allows you to pick and choose which Pages or Categories or any other items you want to display in Navigation menu instead of utilizing a code that simply displays anything you designate as a page. It gives you the flexibility to mix and match pages and blog categories in the  navigation header and even allows you to add links to outside sites. With just a tick of a box, you have the flexibility to remove the author name or dates of your postings, add tags to your template or anything else along those lines, you can simply un-tick the box. Thesis comes ready with a box, where you can even insert your Google Analytics or Mint tracking code. Just hit the "Big Ass Save Button" and you're done. By the way, if you get offended by this "Big Ass Save Button", you can change it whatever you like. How about "Fuckin Save Me Quickly" .. teh he he 😛 !!!
My favorite part of the Thesis theme is the Multimedia Box (ominous disappearance from this site!) which you will see in right top of several websites based on Thesis. The multimedia box has the ability to rotate between pictures, embed video or even include custom code for all those folks that want to show advertising in that area. The multimedia box is so configurable that different pages can be made to show different ads as per the content of that particular page.
Want to change the header or add a favicon icon for your website, just head over to the relevant section and do that. Thesis scales the images appropriately to suit the website requirements – no more spending time on scaling and photoshoping images.
You have the option to change the layout from 1 column to 2 or 3 column, change background, navigation, URL colors, teaser display options, feature box section, comments section etc just by a click in the Design Options section. Any other customization you utilize (be it form the forum section or Googling customizations – they go in the Custom File Editor.
You have the option to select the override the custom key and insert specific code for a particular post. This allows you the flexibility of advertising on specific pages, especially higher traffic ones. Your website will have pages with huge traffic and pages with no traffic. With Thesis you can do a targeted advertizing for that particular high traffic page to pull in more revenue.
You might be asking the question – Can I not do all these customizations without buying Thesis? The answer is Of course you can! You can do everything Thesis does without buying the Theme (only if you knew how to !). However, I'm not someone who could have done so. So, I bought Thesis. Also did those 37,000+ people, who arguably believe that Thesis is the best wordpress theme and bought it as well. Airtight SEO, incredible design flexibility, and lightning-fast loading times of Thesis were compelling enough for it to be termed the best premium wordpress theme if not the best wordpress theme.
Does this mean that Thesis is all goodness and comes without any room for improvement. Hell No! There are a few areas of improvement especially with regard to user interaction like contact form, Web 2.0 or Social Networking sites. Current version of Thesis is 1.8 and the 2.0 version is expected soon. The developer option is going to be priced at $297 as against the current price of $164. That is a price hike of $133. So, it does make sense to buy it now and save those $133 because of free lifetime upgrade option.
If you believe you're a good enough PHP and CSS developer, you can customize and create several Thesis skins, sell them and make a profit. Believe me, this is just rinse and repeat – there are many people just making a good living out of it !
Click Here to know more about Thesis Theme
Let me know if you liked this Thesis theme review. It is only once in a while that I review a product, which meets expectations and is something which the community can only gain from.