Kindle Device readers might remember this logo. This is the logo of the Kindle app, which we could use with our PC and Mac computers. This Kindle Reader app was a freeware application and was quite an easy way for many Mac and iPad users to browse, purchase, and read electronic books.
Then Apple had a change of heart about in-app purchases, basically demanding the standard App Store 30% take for any ebooks bought from within the Kindle Reader app. Amazon removed the purchase mechanism from the app, and it's still available on the App Store – purchasing just takes one more step now. A few days back, Amazon launched the Kindle Cloud Reader – Let's have a look at the Kindle web app and see how it compares to the native app.
Kindle Cloud Reader is a web app (made with polished HTML5), so, you really don't install anything. It works with 2 browsers only – Safari and Chrome. Bad luck Firefox and IE users 🙁
It is a web app, but it downloads and stores books for offline reading – Yes! even though it is browser based app, it is available offline as well. What it means is that you can continue reading and enjoying books even when there isn't any internet connection available. It is based on the same model of Kindle – Buy a book, download it and read it anytime, anywhere.
The app looks the same whether you're on Mac or iPad. When click or tap and hold a book to move it offline, it automatically opens as well. As with the physical Kindle device, you see one page at a time. On either side of the page of text or graphics are arrows which, when clicked or tapped, move you to the next or previous page. At the bottom of the page is a progress bar showing how far along you are in the book, and at the top of the Mac Cloud Reader is a sparsely-populated toolbar. It's here where you can navigate to the cover or table of contents of a book, set a bookmark, change text size, or sync your reading progress to the cloud so that the next time you pick up reading, regardless of what device you're on, you start at the furthest read point.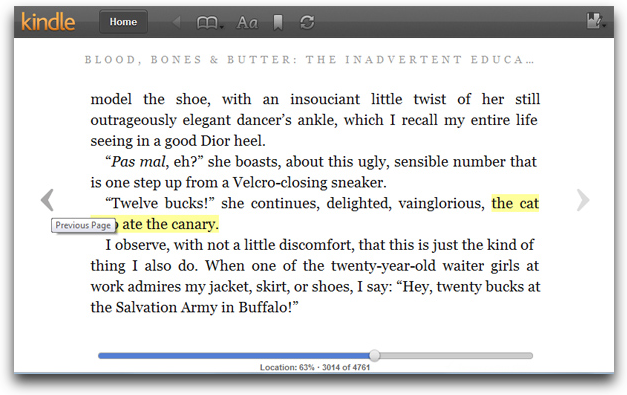 Blogs, periodicals and personal documents cannot be viewed on Kindle Cloud Reader. Also, there is no search functionality and no full screen reading. You cannot currently create new notes and highlights using Kindle Cloud Reader, but notes and highlights you create while reading the book on your Kindle or another Kindle app will be displayed.
You can adjust font size and change the color of your reading background with Kindle Cloud Reader. On a Windows, Linux, or Mac computer you can also change the margin width.
Overall, we think it is a useful app. There are a few bugs here and there especially related to sync. However, we're optimistic that they will be sorted soon. Overall, it is nothing compared to the Kindle Reader device, however, those who are yet to shift to Kindle Reader device will find it useful. Let us know how your experience has been.
Happy Reading!